Mt. Kilimanjaro Umbwe Route 6 Days Itinerary
with
Day 1
Arusha ─ Umbwe Gate
We start day 1 with the 2 hours-drive from Arusha to Umbwe Gate (1640m / 5381ft).
Umbwe Gate ─ Umbwe Cave Camp
8km, ↑ 1270m / 4167ft
Trekking today will involve uphill struggles on steep parts of the mountain, getting steeper until we reach Umbwe Cave Camp. This exhausting walk will take between 4 and 6 hours. We will camp overnight at Umbwe Cave Camp site (2930m / 9613ft).
Day 2
Umbwe Cave Camp ─ Barranco Camp
6km, ↑ 1030m / 3379ft
After breaking the camp in the morning, we will start the uphill climb to Barranco Camp site. The path is still very steep initially. We will then come to a short scramble over rocks before finally, the gradient eases for the trek to Barranco Valley. Today's walk will take 3 to 4 hours to Barranco Camp (3960m / 12992ft) where we will camp and overnight.
Day 3
Barranco Camp ─ Karanga Camp
6km, ↑ 375m / 1230ft, ↓300m / 984ft
Today's' trek will start by scrambling up Barranco Wall or Breakfast Wall which we will climb after breakfast. We will then proceed across the ridges and valleys to Karanga Camp (4035m / 13238ft) where we will have lunch and camp overnight.
Today the trek will take 4 hours to the camp. After lunch, we will have an optional acclimatization walk to the scree slopes towards the Southern Ice Fields. This will increase our chance of reaching Freedom Point Uhuru Peak.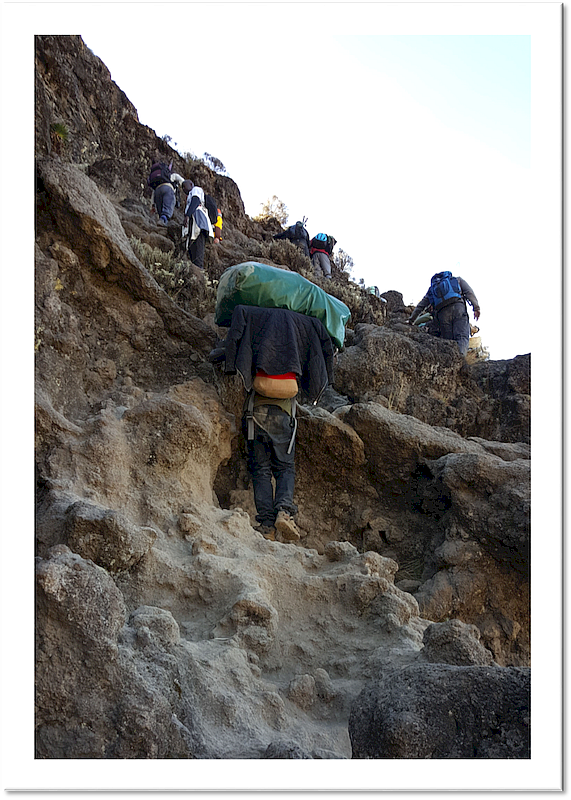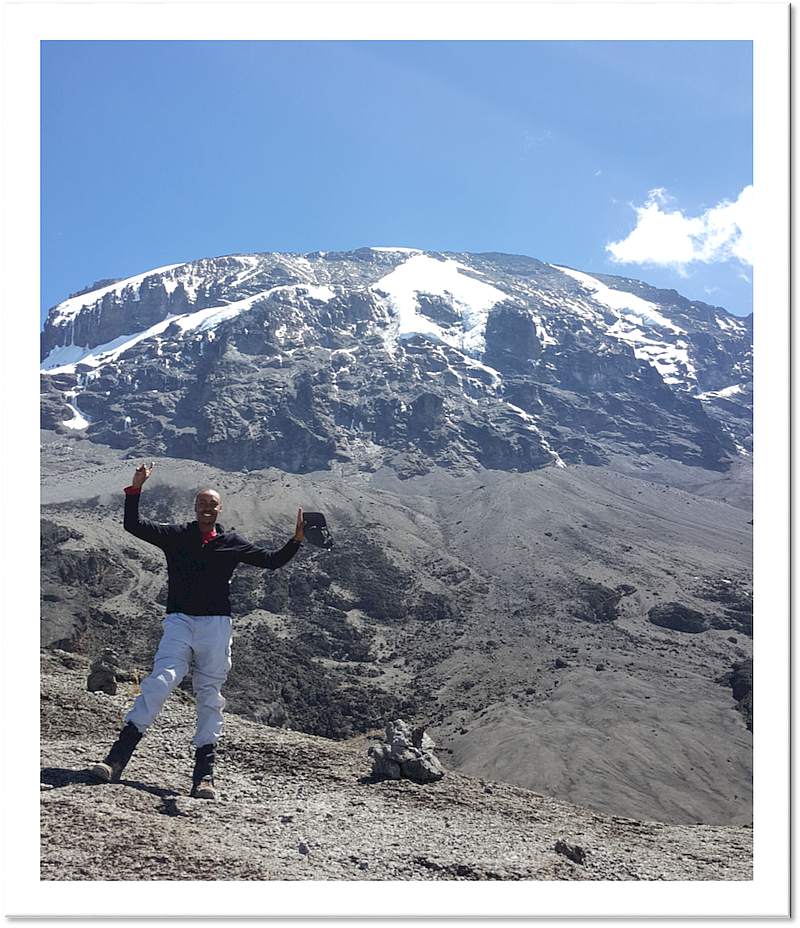 Day 4
Karanga Camp ─ Barafu Camp
4km, ↑ 605m / 1985ft
Today we will start trekking between the boulders, then over the sheltered rocks and stones before a short scramble up the cliff which will bring us to Barafu Base Camp. The trek will take about 4 hours. Camp and overnight at Barafu Base Camp (4640m / 15223ft).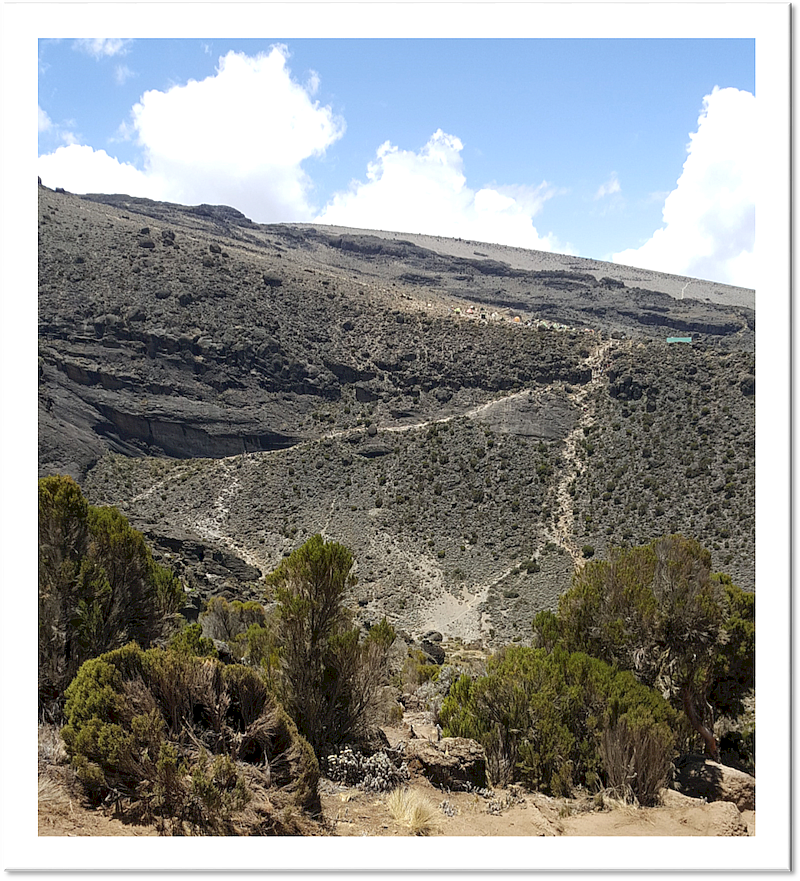 Today we will go to have early dinner.
We will wake at midnight for hot drinks and start ascending to the summit.
Day 5
Barafu Camp ─ Summit ─- Mweka Camp
19km, ↑ 1255m / 4117ft, ↓ 2815m / 9236ft
The trek today begins at around midnight.
We will trek up the scree slopes to Stella Point (5730m / 18799ft) on the rim of the crater. We will then trek for an hour to the highest point Uhuru Peak or Freedom Point (5895m / 19341ft). After having an amazing view and pictures on top of the Roof of Africa, we will start to descend via Stella Point, then down the scree slopes before finally arriving at Barrafu Camp for a short rest of 1 hour, or 45 minutes if we feel strong enough. Then we continue the descent to Mweka Camp (3080m / 10105ft) for overnight.
This day will take 11 to 15 hours depending on our pace.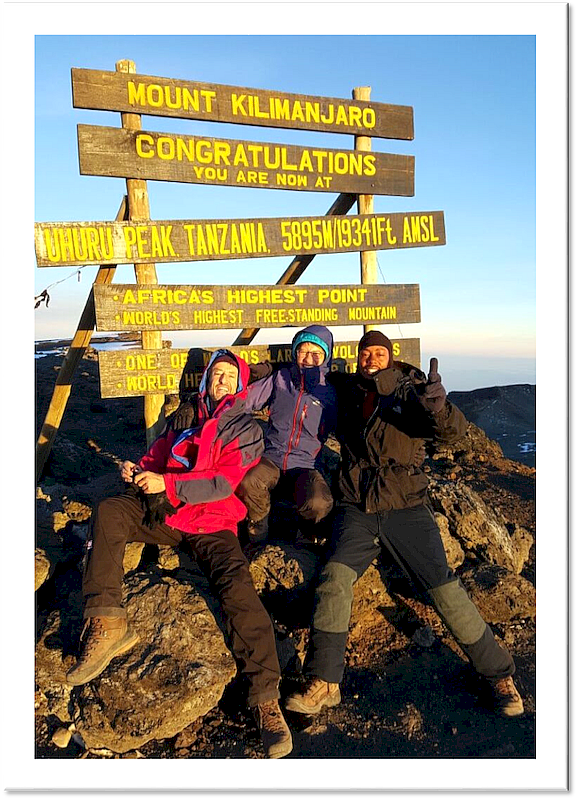 Day 6
Mweka Camp ─ Mweka Gate
10km, ↓ 1450m / 4757ft
We break camp early in the morning and trek through the beautiful rainforest which will lead you to Mweka Gate (1630m / 5348ft). The walk today will take you 4 to 5hours.
At the gate we will have lunch and certificate presentation before driving back to the hotel, lodge or campsite where you will be welcomed with a hot shower and drinks!!