Arusha National Park
Size: 137 km² enlarged to ca. 300 km²
Founded: 1960
Distance from Arusha: 25 km

Our most popular tours in Arusha National Park: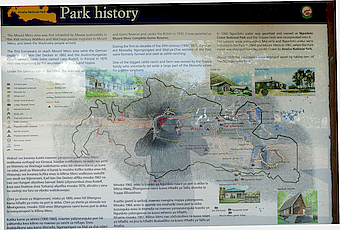 Poster of Arusha NP History
Poster of Arusha NP Wildlife
Between the summits of Mt. Meru and Kilimanjaro lies Tanzania's second-smallest national park.
Compared to the surrounding area is the Arusha National Park almost year-round green. Despite its small size, the park offers three distinguishable distinct natural areas with a rich flora.
The Ngurdoto Crater, also called "Little Ngorongoro" with its rich, swampy caldera and its steep crater walls. Home of forest elephants, colourful Turaco birds and playful monkey species in the treetops of the evergreen rainforest.
The "Little Serengeti", a huge forest clearing with permanently rich of game.
The seven Momella Lakes are located in large valleys and hollows. Playgrounds of hosts of flamingos and migratory birds.
The extinct volcano Mount Meru is the ubiquitous main feature of the park and with its 4565 m the third-highest mountain of Tanzania after Kibo (5895m) and Mawenzi (5149m).
Even if you do not climb Mount Meru in preparation for the Kilimanjaro, hikes in the mountain rain forest are very worthwhile.
For flower lovers, a link for a remarkable compilation of the rich flora of the Arusha National Park:
Plants of Arusha National Park
Arusha NP view to Mount Meru, elephant sculpture
Ngurdoto crater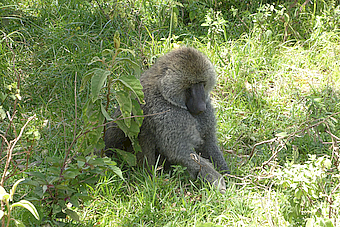 Arusha NP Pavian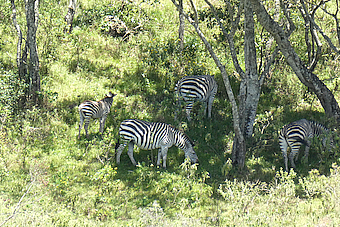 Arusha NP - Zebras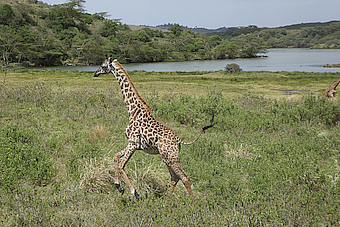 Arusha NP - Giraffe
Arusha NP - Dikdik
Momella Lake Ndogo
Momella Lake - Waterbuck
Momella Lake - Birds
Arusha NP - Village
Solanum crinitum - SOLANACEAE
Tululusia Falls
Hatari Lodge - History
Hatari Lodge